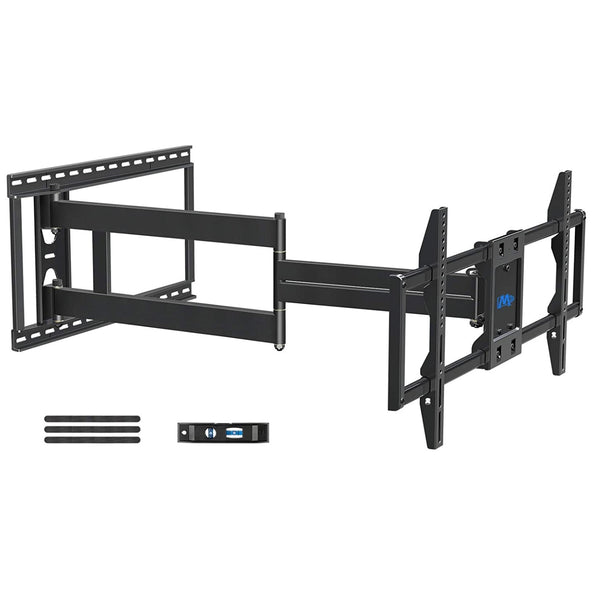 Regular price

Sale price

$129.99

Unit price

per
| | |
| --- | --- |
| Model | MD2285-XL |
| Type | Full motion TV wall mount |
| TV size | 42''-90'' |
| VESA pattern | 200x100mm to 800x400mm |
| Weight capacity | 150 lbs. |
| Swivel | 90° left or right |
| Tilting | 5° up and 12° down |
| Extension | 3''-40'' |
| Leveling | 3° |
| Material | Cold Rolled Steel |
| Installation | Dual wood stud up to 24'' or concrete wall |
| Product Weight | 27.6 lbs. |
| Shipping Dimensions | 36.5 x 16 x 3 inches |
| Warranty | 10 years |
This full motion TV wall mount has a long extension up to 40'', allowing you to position your TV more flexibly. With its sturdy long dual arms, it is a perfect solution for corner mounting, which can utilize more space.
Large TV wall mount

This large TV wall mount is suitable for 42''-90'' flat or curved screen TVs and is able to load up to 150 lbs. It is compatible with VESA hole patterns from 200x100mm to 800x400mm (To be specifically, 200X100mm, 200X150mm, 200X200mm, 300X200mm, 300X300mm, 400X200mm, 400X300mm, 400X400mm, 600X400mm, 800X400mm). It works with most TV brands, including Samsung, TCL, LG, Sony, Hisense, Vizio, etc.
Extending wall mount for TV

The extending wall mount for TV can be extended 40" from the wall to cover more viewing positions. It is ideal for corner TV mounting with a long arm that can be adjusted more flexibly. Not only does it expand viewing angles, but it makes full use of the corner and leaves more space for other furniture. When retracted back the wall, it flushes 3'' against the wall, saving space and creating a sleek look.
Full motion TV mount
This full motion TV mount upgrades your viewing experience. You can swivel the TV left or right at 90 degrees so you can watch TV from different seats. If there is reflective light, you can tilt the TV down at 12 degrees to eliminate glare. You can also tilt up at 5 degrees for easy cable management. If the TV is not leveled after installation, you are able to level it with its 3° leveling adjustment. 
Sturdy long arm TV mount
This long arm TV mount is built with 2 extra arms, which are sturdy and strong to load a TV of up to 150 lbs. It added a vertical arm to secure the 2 arms and a parallel arm to secure an arm. The extended TV wall mount is constructed of quality cold-rolled steel which ensures stability and long-time usage.
Open design for outlets
The long arm mount has a large open wall plate. If the place where you want to mount the TV happens to have outlets, the open design allows you to mount your TV without being blocked. 
How to install long extension TV mount 
Long extension TV mount MD2285-XL has a 28'' wall plate, which fits 16''/18''/24'' wood stud or concrete wall. It takes 3 simple steps to complete the installation. 1. Install the wall plate. 2. Attach brackets to the TV back. 3. Hang TV on the wall plate. Comes with all necessary hardware and a detailed user manual, so the installation can be done quickly and easily. 
Note: If the arms are stiff, which is normal as a full-motion wall mount so that the TV weight does not simply move the TV from the position if too loose/smooth. Please add some additional oil/grease on the arm joints which will slowly help smoothen the operation over time as being used.
Package includes
wall mount; user manual; all necessary hardware and bolts; template; cable ties; bubble level
Feel free to contact us
At Mounting Dream, our customer support is here to help 7 days per week. We are online to reply to your questions through email and we can answer your phone from Monday to Friday. How to choose, how to install, and which screws to pick - Feel free to let us know what we can help with. 
Customer support email (7 days per week): support@mountingdream.com 
Phone number (10 am-6 pm, Monday to Friday):  (626) 604-9048
*If you want a bulk purchase quote for your project, please contact sale@mountingdream.com
Great mount
Had to install a 75" tv in a corner, none of my distributors had a mount that would work. I wanted to mount to 2 studs but not have 2 arms that lock up when trying to swing into corner, i purchased 2 onlybused 1, but a good mount to keep on the truck for a future customer
Excellent product!
We are not using the tv mount for a TV. We installed it to hold a SCBA, firefighters breathing apparatus in the Chief's vehicle. It works great!Thanks
Excellent build and instructions
Well built and easy to install. Highly recommend.
Best mounting bracket ever
Not cheap and not cheaply made.
You got what you pay for.
I am too poor to buy things twice.
I had a different bracket and it did not work for me so I bought this one . In effect I bought two before I got the right one.