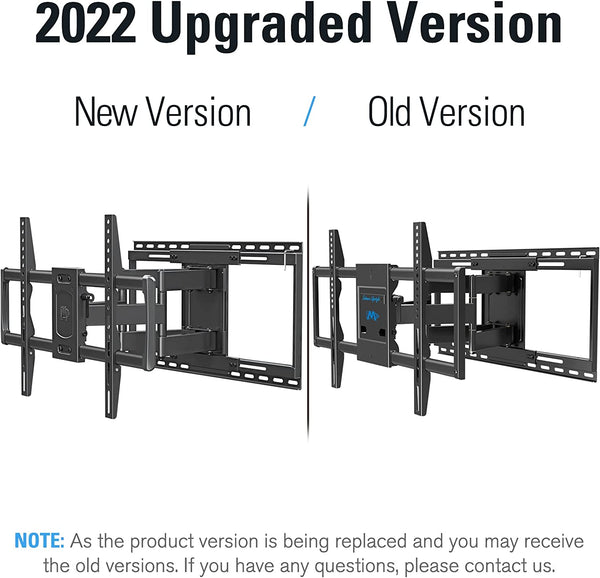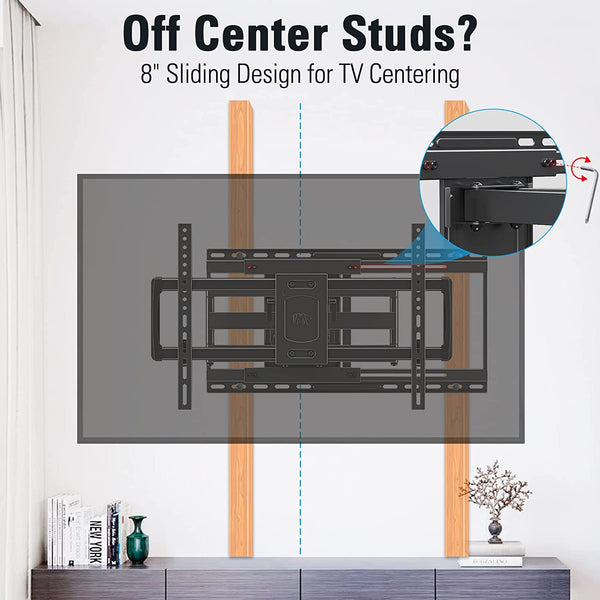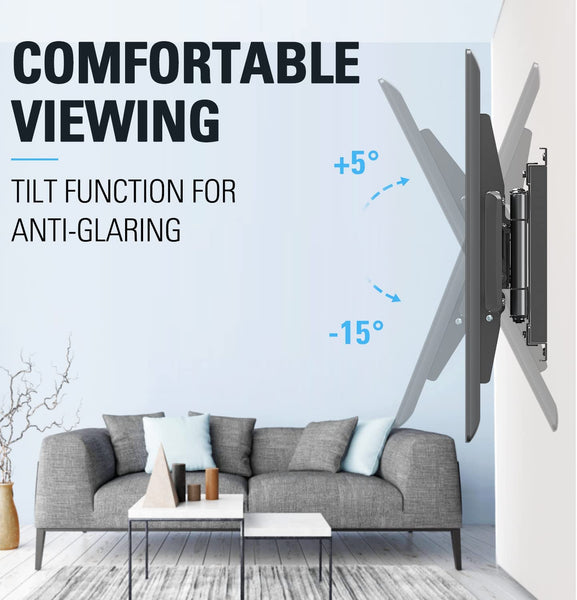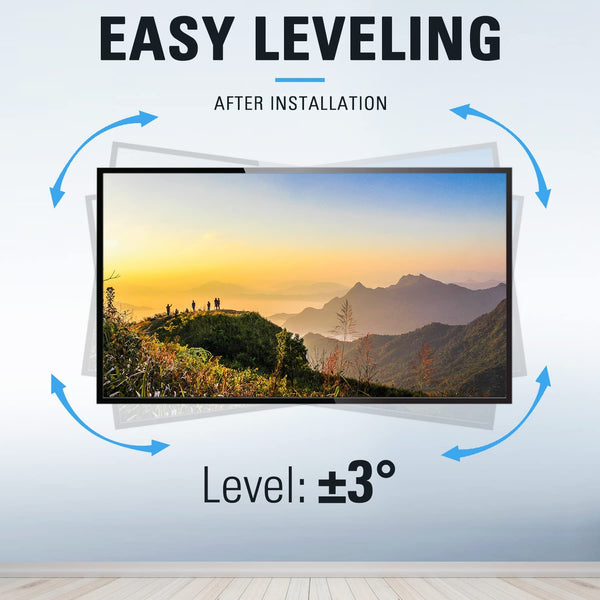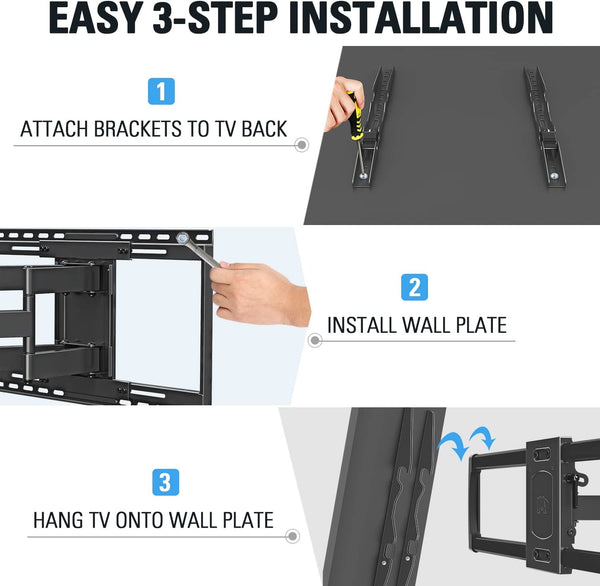 Regular price

Sale price

$109.99

Unit price

per
| | |
| --- | --- |
| Model | MD2198 |
| Type | Full motion TV wall mount |
| TV size | 42''-86'' |
| VESA pattern | 200X200mm to 600x400mm |
| Weight capacity | 132 lbs. |
| Swivel | 45° left or right |
| Tilting | 5° up and 15° down |
| Extension | 3.2''-18.8'' |
| Leveling | 3° |
| Material | Cold Rolled Steel |
| Installation | Dual wood stud up to 24'' or concrete wall |
| Product Weight | 27.9 lbs. |
| Shipping Dimensions | 23.03 x 13.5 x 0.65 inches |
| Warranty | 10 years |
MD2198 is a full motion TV wall mount for 42''-86'' large screen TVs. This sliding TV mount offers an 8'' horizontal adjustment, which allows you to slide the TV left or right for TV centering on off-center wood studs.
Large TV wall mount
Large TV wall mount MD2198 fits 42''-86'' large TVs loading up to 132 lbs. The TV hanger is compatible with VESA hole patterns of 200X200 mm, 300X200 mm, 300X300 mm, 400X200 mm, 400X300 mm, 400X400 mm, 500X300 mm, 600X200 mm, and 600X400mm. It works on most TV brands, including TCL, Samsung, SONY, Panasonic, Toshiba, VIZIO, Sharp, LG, Philips, etc.
Sliding TV mount for TV centering
If the wood stud spacing of your room is off-center, pick this sliding wall mount. The 24'' wall plate has a sliding design that enables you to shift the TV left or right 4 inches. It ensures a smooth and quiet adjustment. Even a large TV can be easily centered without using any tools after installation. The articulating arms can retract to 3.4'' against the wall, and also extend up to 19'' which can also move the TV left or right for more optimal positioning.
Full motion TV wall mount for home theater
It's time to level up your home theater setup with a full motion TV wall mount. A swivel TV mount provides a wide range of movement, which can greatly improve your home theater experience. MD2198 features a 45° swivel adjustment. You can turn your TV left or right at 45 degrees for different seats, and you can enjoy watching TV without sitting directly in front of the TV. If you mount your TV above fireplace, you can tilt the TV 15° down to eliminate glare and reduce neck or eye strain for comfortable viewing. Moreover, +/-3° post-installation adjustment allows perfect TV leveling after installation.
Patent design & UL safety certificated TV mount
Sliding wall mount MD2198 holds a design patent in the US whose patent number is 10 563811, B2, and also a UL Safety Certification. To get the UL certification, MD2198 needs to go through the UL test that makes sure that products are constructed correctly for the highest safety. In the test, it reaches 4 times its loading ability and its arms were retracted over 6000 times to make sure it achieves the ideal service life. It is manufactured with precise automated robot welding technology for smooth and stable movements and is made of heavy duty stainless steel for durability and sturdiness. The large TV wall mount can ensure the safety of the TV and people, whether you are using it at home, in offices or other places.
Installing movable TV mount is easy
This movable TV mount fits 16''/18''/24'' wood stud or concrete/brick wall. With a variety of hardware and bolts and easy-to-follow instruction, installing this TV wall mount is easy and simple. It takes 3 simple steps to complete the installation. Step 1: Attach the TV brackets to the TV back panel. Step 2: Install the wall plate to the wall. Step 3: Hang the TV on the wall plate.
Note: All Mounting Dream TV mounts can't be mounted on plain drywall. Concrete wall anchors will be sent on request.
Package includes
1x TV wall mount, 1x bubble level, 1x user manual in 6 languages, 1x mounting template, and necessary mounting hardware and bolts.
7/24 customer service:
At Mounting Dream, our customer support is here to help 7 days per week. We are online to reply to your questions through email and we can answer your phone from Monday to Friday. How to choose, how to install, which screws to pick - Feel free to let us know what we can help with. 
Customer support email (7 days per week): support@mountingdream.com 
Phone number (10 am-6 pm, Monday to Friday):  (626) 604-9048
Good mount, well priced
Easy to install. Very sturdy. Centering feature especially nice for uncentered studs in the wall. Price point is fair compared to the competition. Was happy to come across this mount online. Only minor negative is that it is a little on the stiff side maneuvering out my TV from the original base. But otherwise would purchase again.
Very sturdy good quality
I am very happy with this TV mount. I love that I was able to slide the TV and adjust the centering for perfect placement. I will be ordering another one for the bedroom soon.
Sturdy
Very sturdy…. Used it on an OLED tv and holds the appliance very well. Easy to install with the included template.
Solid High Quality
Installation was easy. (57" TV) The mounting design is the most universal design I have seen. If the studs aren't exactly where you want the TV. Plenty of options for adjustment to center the TV where you want it. The TV is securely mounted to the bracket. No loose movement. Smooth operation while adjusting the angel or tilt of the TV. Well worth the money.
Rock solid
The full motion wall mount is well designed and heavy duty.
The ability to fine tune the position of the TV is well thought out. Adding or deleting component wiring to the TV is easy, you have full access to the back of the TV. Also purchased the sound bar attachment kit. Had a problem with the sound bar connection points. Customer service was top notch in resolving the issue.